Horny Goat Weed (Epimedium sagittatum) is an herb, knownas yin yang huo in Chinese medicine. The leaves are used for their medicinal properties in Korea, Japan, and China for more than 2,000 years.
Horny goat weed has a long history as a male libido stimulant. By increasing nitrous oxide levels, it relaxes smooth muscles, thereby letting blood flow more freely for sexual stimulation, having a similar biochemical pathway as the popular drug Viagra.
Health Benefits
The health benefits of horny goat weed include…
Increased sexual performance
Increased energy
Anti-fatigue
Native Habitat
A leafy plant which grows in the wild, most abundantly at higher altitudes, Horny Goat Weed is found growing all over the southern areas of China. It can also be found in the Asian countries that immediately border China, as well as some neighboring European countries.
Traditional Uses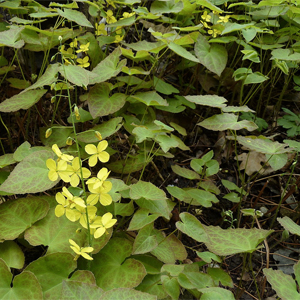 Used in traditional Chinese medicine for over 2,000 years, it has been suggested to treat fatigue, arthritic pain, nerve pain, sexual dysfunction and weakness in the back and knees.
It is thought to alter levels of certain hormones and is marketed as a dietary supplement for libido. The plant has long been employed to restore sexual fire, boost erectile function, allay fatigue and alleviate menopausal discomfort.
Results from in vitro studies suggest that components of Epimedium exhibit antiosteoporotic, neuroprotective, immunomodulatory, and anticancer effects, as well as anti-HIV activity. Epimedium derivatives may produce radiosensitizing effects and reverse multidrug resistance in tumor cells (source).
---
Related Reputable Studies