American Ginseng (Panax quinquefolius) is an This herbaceous perennial plant is native to North America. Commonly used in Chinese medicine, it is a major adaptogen, providing circulatory and immune support, known stress reducer, hypertension balancer, liver protector, with anti-inflammatory benefits.
Clinically proven, it decreases blood glucose levels, as well as weight. It is also well-respected worldwide for vitalizing blood flow, improving memory, and enhancing well-being.
Health Benefits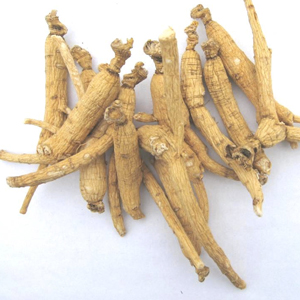 Health benefits of American ginseng include…
Improves energy
Increases mental clarity
Alleviates mental stress and anxiety
Anti-aging
Inhibits certain cancer cell growth
Strengthens immune system
Regulates blood pressure
Reduces cholesterol levels
Lowers blood sugar
Antioxidant
Active Ingredient
The active ingredients in American ginseng are ginsenosides and polysaccharide glycans.
Native Habitat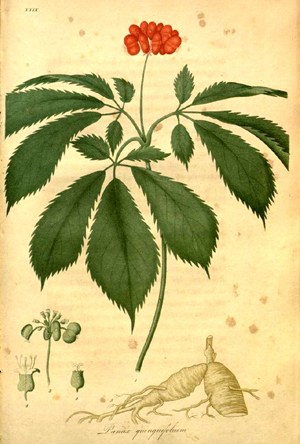 An herbaceous perennial plant in the ivy family, American ginseng is native to eastern North America, though also cultivated internationally. Wild American ginseng usually grows in well-shaded areas of moist hardwood forests in North America where the weather is cool and soil is rich.
Native to deciduous US forests from the Midwest to Maine, primarily in the Appalachian and Ozark regions, and also in eastern Canada. It is also grown on ginseng farms.
Traditional Uses
Long used for medicine, American ginseng was originally harvested by many different Native American tribes and used in Asian medicinal products, who used the forked root and leaves. Since the 18th century, the roots have been collected by "sang hunters" and sold to Chinese or Hong Kong traders, who often pay very high prices for particularly old wild roots (Wikipedia).
Use of American ginseng was recorded in traditional Chinese medical herbal manuals thousands of years ago, and was consumed by royal families and nobles as an important health supplement.
Disclaimer: Despite the references provided, the information on this site is intended for educational purposes only. It is not meant to cover all possible precautions, drug interactions, circumstances or adverse effects. Please refer for advise and treatment by a licensed physician.
---
Related Reputable Studies